Boat outing for a guided snorkeling tour on the coral reefs of Southern Martinique. 
A magical water activity to share with family or friends for unforgettable memories.
A 100% Snorkeling club, our activity is entirely dedicated to snorkeling tours. No tanks, no complicated equipment, nothing to carry, everything is easy and effortless. Just Fins, Masks, and Snorkel (FMS).
The sites we have selected are ideally suited for snorkeling. Shallow waters under the boat, protected from wind and waves, and all boasting healthy coral reefs for a visual treat.
Anyone can participate. No need to be a good swimmer or even know how to swim, you'll have all the necessary equipment to discover the wonders of the reef from the surface. Your guide is a state-certified diving instructor with a lot of experience (20 years diving in southern Martinique) and a passion for marine biology. He will put you at ease and give you the tips and advice to make the most of your snorkeling tour.
Discover the marine wonders with les Aquanautes !
With family or friends, this activity is simple and friendly.
We offer a swim on a coral reef in the Caribbean Sea, with temperatures ranging from 26°C to 31°C.
Snorkeling, also known as PMT (Fins, Mask, and Snorkel), is an easy and enjoyable activity.


Observe the reef from the surface, letting yourself float.
Properly equipped, you can participate even without knowing how to swim. This activity is shared in small groups, allowing interaction and discussions with your guide, which is a significant advantage for those wanting to learn about what they observe.
By choosing sites sheltered from the prevailing wind, with no current and minimal waves, you'll have access to safe exploration areas conducive to discovery.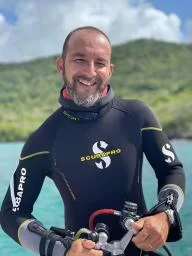 A state-certified DEJEPS diving instructor, I've been diving in Martinique since 1985, primarily in the southern part of the island. By founding The Aquanauts, I wanted to lead a small outfit that would give me the opportunity to introduce others to some of the southern island's coral reefs that continue to amaze me with every dive.